Buttocks Liposuction
Conveniently located to serve the areas of Roseville, Antelope, Citrus Heights, Rocklin and Sacramento, CA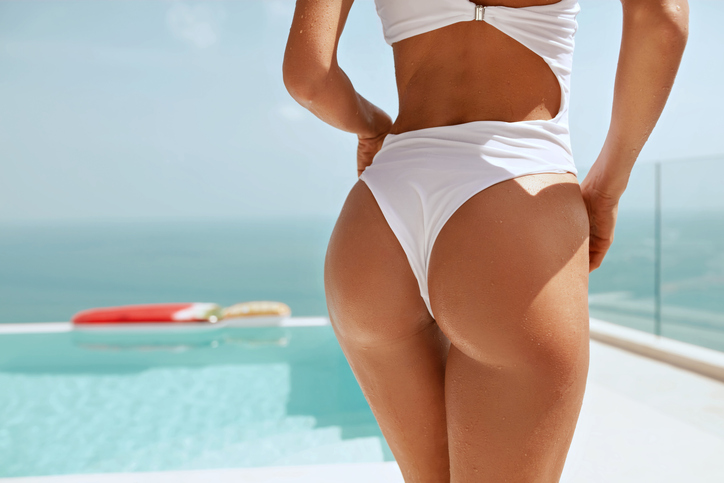 Liposuction to the buttocks is a body contouring procedure that removes fat to sculpt a more appealing backside. This procedure can reduce the overall size of the patient's buttocks, but it also addresses the areas surrounding the buttocks. Strategically removing fat in the upper thighs, hip, and waist contributes to the buttocks' overall appearance. When diet and exercise still don't pay off, it's worth considering liposuction. This safe and effective procedure can quickly impart a well-defined and smoothly contoured derriere.
Your buttocks are more than just where your legs meet your torso. They're a powerful tool of sexual attraction. Evolutionary biology credits the hourglass figure with our species' survival! This important store of fat indicates health, youth, and reproductive potential.(1) And while our status as more or less evolved is arguable, the appeal of rounded, well-projected buttocks is not.
Any successful liposuction treatment requires an artistic and anatomical understanding of the body. Dr. Jack Friedlander is a highly trained surgeon who specializes in VASER liposuction and has the skills, training, and compassion to make sure that you end up with the rear-end of your dreams. Trust your bottom to the top talent in the Sacramento area and contact Norcal Liposculpture today. Call (916) 347-7755 to speak to one of our friendly staff members and schedule an appointment.
Bottoms Up!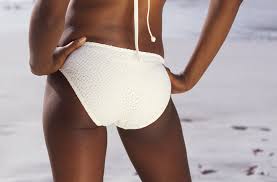 Buttock Liposuction is your ticket to finally getting a proportional and defined caboose. But it's not just about your butt!
Liposuction for this area of the body takes your entire physique into consideration. After all, what makes an appealing butt?  Dr. Friedlander will carefully consider your flanks, presacral area (the area above your tailbone), hips, and both the inner and outer thighs, to optimize your results. (2) It's important to understand the tissue, muscle, and fat deposits that make for a beautiful behind. As with anything, a good foundation is essential to support a magnificently projected set of curves. Dr. Friedlander is committed to providing his patients with the best results possible, which has inspired his innovative research and intensive training. He perfected his liposuction techniques with industry greats like Dr. John Millard and Dr. Grant Hamlet.
To learn more about what's happening at Norcal Liposuction, keep an eye on our blog.
Benefits
Your gluteus maximus muscles are the largest muscles in your body. So make them work for you! Imagine not having to spend hours trying on endless pairs of pants and the thrill of finally sliding on a pair of jeans that fit. Buttocks liposuction will improve your self-esteem and keep you looking over your shoulder. A tighter behind with definition and a smooth, perky silhouette will have you asserting your assets and loving it when they watch you walk away.
Because your bum is bespoke, VASER is the ultimate tool for your liposculpture. The secret is science. VASER liposuction combines specialized liposuction technology with ultrasound waves, which break down fat.
Vaser Technology offers the advantages of:
Shorter recovery time
Ability to precisely target and remove small amounts of fat close to the skin
Avoid skin rippling and structural damage
Achieve beautiful, smooth, natural-looking results
No ifs ands or buts about it: VASER is the way to go for a voluptuous, sculpted bottom.
Candidates in The Capitol
Good candidates for VASER buttocks liposuction treatments want to reduce and improve the contours of their buttocks. Those in the Golden State and elsewhere make the trip to Sacramento for Dr. Friedlander's expertise. If diet and exercise have been ineffective in targeting this area, VASER Liposuction is an excellent solution. However, this treatment is not a substitute for weight loss. You should be near your target weight and be in good health. Smoking negatively impacts your body's ability to recover from this procedure, so you'll need to quit before your liposuction. During your consultation, you'll be provided with more customized instructions for preparation and recovery from your buttocks' liposuction procedure.
Personal Consultation
Your consultation is a discreet but friendly opportunity for you to express your surgical goals to Dr. Friedlander and determine the best course of treatment. He will assess your medical health and try to align your goals with the procedure that will produce the best results. Dr. Friedlander will walk you through the liposuction experience and explain various options that are available such as techniques and tools. If you and the doctor agree that liposuction is right for you, you'll be given an accurate price quote and detailed instructions to prepare for and recover from your procedure.
Preparation
Dr. Friedlander and his staff will make sure that you have all the information you need to have a smooth procedure and recovery!
Prior to liposuction, patients will be asked to:
Stop taking any blood-thinning medication or any other medications or supplements known to interfere with blood clotting.
Abstain from smoking for two weeks to two months prior and one month after their VASER liposuction procedure. The oxygen depletion in the blood can raise the chance of certain risks in patients.
Plan to take several days off to recover. It is recommended that patients take some time off work and allow themselves the rest they need to achieve their best results.
Prepare for your recovery time. Make sure that you have groceries, your pain medication, books and movies, and a comfortable place to recover.
Designate a friend or family member for a ride home after liposuction treatment. It is also advised that this person stays with the patient for the first night or two of their recovery to provide any needed support.
Wear loose-fitting and comfortable clothing on the day of the procedure.
The team at Norcal Liposculpture wants you to have the best experience possible and is here for you. Reach out to the helpful staff at NorCal Liposculpture with any questions.
Procedure
Performing liposuction is akin to sculpture. It's a three-dimensional endeavor that requires a practical application of scientific knowledge, artistry, and experienced precision. However, liposuction to the buttocks is a safe procedure, and there is science and research to back it up. Infection is one of the greatest threats during any surgical procedure, but clinical studies show that liposuction to the buttocks has a risk of less than 1%. (3)
When preparing a patient for liposuction, surgeons mark the areas for treatment topographically to ensure that the amount of fat removed on each side of the body is consistent and symmetrical. VASER liposuction is performed under general anesthesia. Once the patient is sedated, a small cannula injects tumescent fluid into the treatment area. The VASER device emits ultrasound waves, which agitate the fluid, thereby loosening and dislodging the fat from the surrounding cells without damaging the body's vital tissues. The fat is then easily aspirated, and any remaining dislodged fat cells are flushed from the body. (4)
Recovery
VASER lipo's unique technology makes for a shorter recovery time, but you can still plan on some swelling as a normal reaction. After your procedure, you'll be placed in a compression garment to ease swelling. This swelling will be apparent within 24 to 48 hours after the procedure.
Expect to take several days off from work and rest on your stomach until instructed otherwise. You'll be able to resume the rest of your normal daily activities in just a few days. And, keep moving – walking is encouraged to help promote good blood flow. Within a month or two, swelling dissipates completely, revealing your results.
How Much Does Liposuction to the Buttocks Cost in Sacramento?
VASER liposculpture is tailored to the individual. At your private consultation, Dr. Friedlander will evaluate your current physique and your medical history. The treatment plan he proposes will support your aesthetic goals and financial situation. NorCal Liposculpture offers its patients accurate cost quotes and has a range of financing options. Check our specials page for limited-time offers and exclusive package deals.
FAQ
Why would anyone get liposuction on their butt?
Liposuction on the buttocks doesn't just reduce the overall size of the buttocks. Surgeons target the areas around the buttocks to sculpt and enhance the existing tissue. Buttocks Liposuction contours the hips and thighs for the appearance of a rounder, well-projected rear.
Does Butt Liposuction hurt?
Vaser Liposuction for the buttocks is performed under general anesthesia. Unlike earlier forms of liposuction technology, VASER uses ultrasonic waves to help loosen fat cells, preserving other essential tissue and speeding up recovery time. Discomfort can be managed with prescription or over-the-counter painkillers.
What's the difference between regular liposuction and VASER liposuction?
VASER liposuction uses ultrasonic waves to loosen fat cells, reducing the trauma to other surrounding tissues during the aspiration phase of the procedure.
References
Hoyos AE, Prendergast PM. Female Buttocks. High Definition Body Sculpting. Published online 2014:165-176. doi:10.1007/978-3-642-54891-8_15
Dixit VV, Wagh MS. Unfavourable outcomes of liposuction and their management. Indian J Plast Surg. 2013;46(2):377-392. doi:10.4103/0970-0358.118617
Lee EI, Roberts TL, Bruner TW. Ethnic considerations in buttock aesthetics. Semin Plast Surg. 2009;23(3):232-243. doi:10.1055/s-0029-1224803
Mann MW, Palm MD, Sengelmann RD. New Advances in Liposuction Technology. Seminars in Cutaneous Medicine and Surgery. 2008;27(1):72-82. doi:10.1016/j.sder.2008.01.005