Chest VASER Liposuction
Conveniently located to serve the areas of Roseville, Antelope, Citrus Heights, Rocklin and Sacramento, CA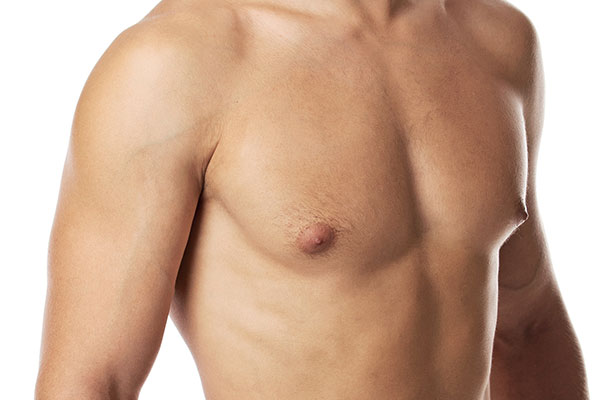 You don't have to put up with "man boobs" anymore!
The male chest is a common area where fat can accumulate, even if you aren't overweight. The lateral chest (the area under your arms on the sides of the ribcage, including the armpits) can also be a "problem" area for some men. Enlarged male breasts commonly occur from gynecomastia, which can affect one or both breasts, as well as obesity and other causes. Gynecomastia can occur due to hormonal imbalance, certain diseases, and the use of certain medications/drugs.
Prominent male breasts can cause significant issues with self-esteem. Gynecomastia may affect a man's confidence and cause embarrassment or anxiety in many situations. VASER Liposuction is the ideal solution for those unwanted male breasts, and the tiny incisions are well-hidden and barely visible.
VASER Liposuction is a groundbreaking advancement in body contouring technology. Dr. Friedlander achieves a level of accuracy1 with VASER Lipo that has never before been possible! This translates to shorter recoveries, a natural-looking silhouette, and targeted, transformative outcomes. Dr. Jack Friedlander has served patients from Sacramento, greater Northern California, and beyond. His expertise helps clients achieve a flat, athletic chest contour with VASER Liposuction.
Contact NorCal Liposculpture to learn more about your male chest reduction treatment options today.
About
Do you have excess or tender tissue on your chest? If you shy away from the beach, intimacy, or other settings where you may be shirtless, you no longer need to deny yourself these simple pleasures!
VASER Liposuction will reduce your excess chest tissue and deliver a more toned, masculine pectoral appearance.
Gynecomastia refers to the overdevelopment or swelling of male breast tissue. This issue is often both a source of physical discomfort and cosmetic insecurity. VASER liposuction alleviates the tenderness and undesirable chest appearance of gynecomastia.
Fat and tissue is eliminated using tumescent fluid and a limited number of tiny, hidden incisions. Once the tumescent fluid has helped prepare the surgical area, Dr. Friedlander will insert the VASER probe through the tiny incisions, and this will emulsify unwanted fat cells using ultrasound technology. 
By strategically eliminating the excess tissue and contouring the chest, Dr. Friedlander achieves a flatter, more athletic pectoral shape.
VASER specifically targets fat cells, leaving connective tissues intact. After treatment with VASER, a slim hollow tube, known as a cannula, will be used to remove the emulsified fat, and to shape and sculpt the desired outcome. This technique is low-impact and highly targeted. For this reason, VASER liposuction has become the preferred method2 for many surgeons when they address stubborn gynecomastia-related tissues. 
Dr. Friedlander's patients are often surprised to learn that VASER's minimally-invasive technique can achieve dramatic, yet natural-looking results. His patients are often back to work within a week of their VASER Chest liposuction procedure.* 
You do not have to live with a soft, swollen-looking chest! You deserve to love your body. Dr. Friedlander is happy to help you improve your comfort and quality of life with a discreet, personalized VASER procedure.
*Individual results may vary.
Causes
Gynecomastia can develop due to a number of environmental and hormonal factors. Gynecomastia symptoms most commonly develop during periods of hormonal change. Generally, the issue results due to an imbalance of estrogen and/or testosterone, but each case is unique to the individual. Young men can develop swollen breast tissue during puberty, a condition that usually resolves within two years' time. Gynecomastia occurs most often between the ages of 50 and 69, though it can occur at almost any point of adulthood. 
Causes of gynecomastia include:
Puberty and other natural hormonal changes 
Aging
Use of anabolic steroids
Use of anti-androgens, or testosterone blockers
Use of certain anti-anxiety medications or antidepressants
Use of certain antibiotics  
Use of ulcer medication
Therapy for cancer
Development of a tumor
Regular use of marijuana or alcohol
Use of heart medication 
Hyperthyroidism
Use of herbal products, such as tea tree or lavender oil
Benefits 
VASER Liposuction is a convenient, safe way to reduce and reshape your pectoral contours. Dr. Friedlander removes not only the fat in the region of the nipple/areola (central chest), but also on the sides of the chest/thorax. As a result, the chest takes on a toned and fit appearance. If you hide your torso because of soft, excess tissue, VASER Lipo can eliminate this issue with targeted precision. 
Benefits of VASER Chest Liposuction include:
Enjoy a smoother, more masculine chest
Results are custom-tailored to your body
Relieve soreness and tenderness related to excess breast tissue
Peace of mind in a safe procedure with beautiful results
Feel more confident in yourself
Once fatty tissue is eliminated, it will not return
Candidates
If you are experiencing pseudogynecomastia, or the development of excess breast tissue not related to hormonal changes, you can still find relief with VASER Chest Liposuction. Men who have swollen, excess, or uncomfortable breast tissue that they are unable to improve with diet and exercise are good candidates for Chest Liposuction. 
People with gynecomastia symptoms are excellent candidates for chest reduction with VASER Liposuction.
In some cases it may be necessary to address a patient's hormonal balance to achieve a full resolution of their issue. Candidates who are experiencing gynecomastia symptoms are advised to consult with their regular care physician to determine if hormonal treatment or medication may be required in addition to cosmetic intervention. 
Candidates for Male Breast Reduction with VASER Liposuction should be at a stable weight and in overall good health. You will be asked to discontinue smoking at least two weeks prior to your procedure date.
Consultation
During your consultation at NorCal Liposculpture, Dr. Friedlander will thoroughly evaluate your history to ensure there are no concerning conditions that may be causing abnormal breast growth. He will take time to discuss your gynecomastia symptoms and the improvement that you would like to achieve.
Your safety and comfort are Dr. Friedlander's number one priority.
In the interest of empowering you with information, Dr. Friedlander will answer your questions about VASER liposuction and make a recommendation of the surgical method he believes is most appropriate for you. 
Dr. Friedlander is committed to achieving meaningful results for his patients. If you have excess chest tissue that you have not been able to address with diet and exercise, Dr. Friedlander is here to help.
Contact NorCal Liposculpture to schedule an informative VASER liposuction consultation today.
Preparation
You will receive instructions to help you prepare for your VASER Liposuction surgery. If you have questions leading up to your surgery date, Dr. Friedlander will be happy to answer them for you. 
In general, Dr. Friedlander advises patients to discontinue use of blood-thinning medications and supplements at least two weeks prior to their surgery date. This includes ibuprofen, aspirin, vitamin E, fish oil, ginkgo biloba, and turmeric pills. 
You will not be able to drive yourself home following your VASER liposuction surgery.
Dr. Friedlander recommends that you arrange for a ride home from your procedure ahead of time so that you can start your recovery as smoothly and swiftly as possible recovery off to as smooth a start as possible. 
Procedure
You will typically undergo your VASER liposuction procedure under IV sedation. Your procedure will usually take between one to three hours. Once your treatment area has been sterilized and marked for surgery, Dr. Friedlander will begin your procedure.
Your chest reduction surgery will be customized to address the unique needs of your case.
Per your pre-determined surgical plan, Dr. Friedlander will introduce tumescent fluid into the areas where liposuction will be performed. The tumescent fluid contains saline, epinephrine, and a local anesthetic. The fluid will make your fat cells swell and constrict the blood vessels in the area to reduce post-procedure bruising and swelling. The tumescent fluid will be given time to take effect before Dr. Friedlander makes tiny surgical incisions. These insertion points will be easily concealed within the natural contours of your body. The doctor will insert a slim VASER cannula and apply VASER soundwaves to emulsify your fat cells. This fat will then be gently suctioned from the chest and thorax with the cannula. For certain cases of gynecomastia, small incisions may be necessary to remove excess glandular tissue. 
Once the flat, toned chest contour you desire has taken shape, your incisions will be closed with sutures. You will receive a compression garment to wear following your surgery.
Chest reduction with VASER Liposuction is performed as an outpatient procedure. Once you have woken up from your procedure, Dr. Friedlander's caring staff will take care of your needs. Once Dr. Friedlander has approved your release, you will be free to return home to begin your recovery.
Recovery
After VASER Liposuction of the chest, you will wear a compression garment for a four weeks. You will see that your results are immediate; however, as with any surgery, there is a healing process. The majority of the swelling and bruising will resolve in several weeks, and the final results can take 4-6 months.*
*Individual results may vary.
FAQ
What is the best treatment for gynecomastia?
Gynecomastia is often best addressed with a combination of medication and cosmetic surgery. Medications like clomiphene can address the majority of gynecomastia symptoms but may not be able to reduce the overdeveloped breast tissue in its entirety. VASER liposuction, when combined with a physician-recommended treatment plan, can completely alleviate the aesthetic and physical issues associated with gynecomastia.
How much does it cost for male breast reduction surgery?
The price of your male breast reduction surgery will depend on the amount of excess tissue and size of the area that will need to be addressed. Once Dr. Friedlander has assessed your pectoral area, he will make a recommendation of the personalized treatment plan that will deliver your preferred results. You will then receive a cost estimate that reflects this customized surgical plan.
References
Hoyos, Alfredo E. MD, & Millard, John A. MD. (2007). VASER-Assisted High-Definition Liposculpture. Aesthetic Surgery Journal, 27, 594-604. doi:10.1016.j.asj.2007.08.007
Adams, William P., Jr., Ha, Richard Y., Rohrich, Rod J. MD, Kenkel, Jeffrey M. MD. (2003). Classification and Management of Gynecomastia: Defining the Role of Ultrasound-Assisted Liposuction. Plastic & Reconstructive Surgery, 111, 909-923. doi: 10.1097/01.PRS.0000042146.40379.25